SANDY Joint 2nd place in UK for Poor Air Quality
CURRENT AIR QUALITY IN SANDY
(LIVE AIR QUALITY INDEX - Updated regularly during the day:)
(Data table courtesy of "WORLD AIR QUALITY PROJECT" from Sandy Roadside Monitoring Station)
The WHO guideline values for particulate matter are:
PM2.5= 10 μg/m3 & PM10 = 20 μg/m3

SANDY ANNUAL AVERAGE ROLLING RESULTS from latest 2016 WHO Survey:
PM10 = 19 ug/m3 PM2.5 = 12 ug/m3
The latest Air Quality results based on WHO (World Health Organisation) guidelines show Sandy as joint 2nd in the UK for levels of PM2.5 - this is a measure of airborne particle matter caused by pollution. The levels on their latest results show Sandy as having 13 ug/m3 compared to a max 10 ug/m3 which is the recommended maximum level on WHO guidelines.
Extract from WHO "Air Quality Guidleline for Particle Matter..." Global Update 2015:
"The evidence on airborne particulate matter (PM) and its public health impact is consistent in showing adverse health effects at exposures that are currently experienced by urban populations in both developed and developing countries. The range of health effects is broad, but are predominantly to the respiratory and cardiovascular systems. All population is affected, but susceptibility to the pollution may vary with health or age. The risk for various outcomes has been shown to increase with exposure and there is little evidence to suggest a threshold below which no adverse healtheffects would be anticipated."
Councillor Adam Zerny posted his concerns on his facbook page in May 2018, an extract:
"..To monitor fine particle pollution, CBC has been measuring atmostpheric particulate matter also known as PM2.5**. The Council says levels have dropped since monitoring began in 2013 but admits the most recent annual average reading, from 2016, shows an increase, rising to 12. This is the figure to which the BBC refers.
To put this figure of 12 in context, bear in mind it is an annual average and will have been much higher for long periods of time. To illustrate this, at the moment I published this post, the latest published reading for Sandy was 41, at 7am this morning, as compared to 62 in the centre of London. The highest PM2.5 reading in Sandy in the last 48 hours was 156, yesterday, which is seen as 'very unhealthy'..."
To read Adam's full post - click on this link: https://bit.ly/2XAK36o
Below is the link to the WHO results database if you would like to reveiw the information in more detail.:
Are you concerned about road safety in and around Sandy?
So are we - Which is why the SG19 Road Safety Group was formed, Please also help us by using our supporters whenever possible - check them out by clicking on the supporters link to the left.
If you have some free time and would like to help SG19 group in more ways (helping gain awareness at local events, for example the town carnival, Christmas light switching on etc) or would like to join our committee to help support in operating our facebook pages, this website etc., please contact the team on admin@sg19.org and we will get in touch to tell you more.
Please click here to read a summary of our acitivity
CLICK HERE and register now, so we can keep you up to date on news and future meetings. Make your own views known.
---
HIGHWAYS ENGLAND A428 Black Cat to Caxton Gibbet
Up to £1.4Billion budget for Major Road Scheme
Click on the picture of the route below to go to Highways Englands website for full information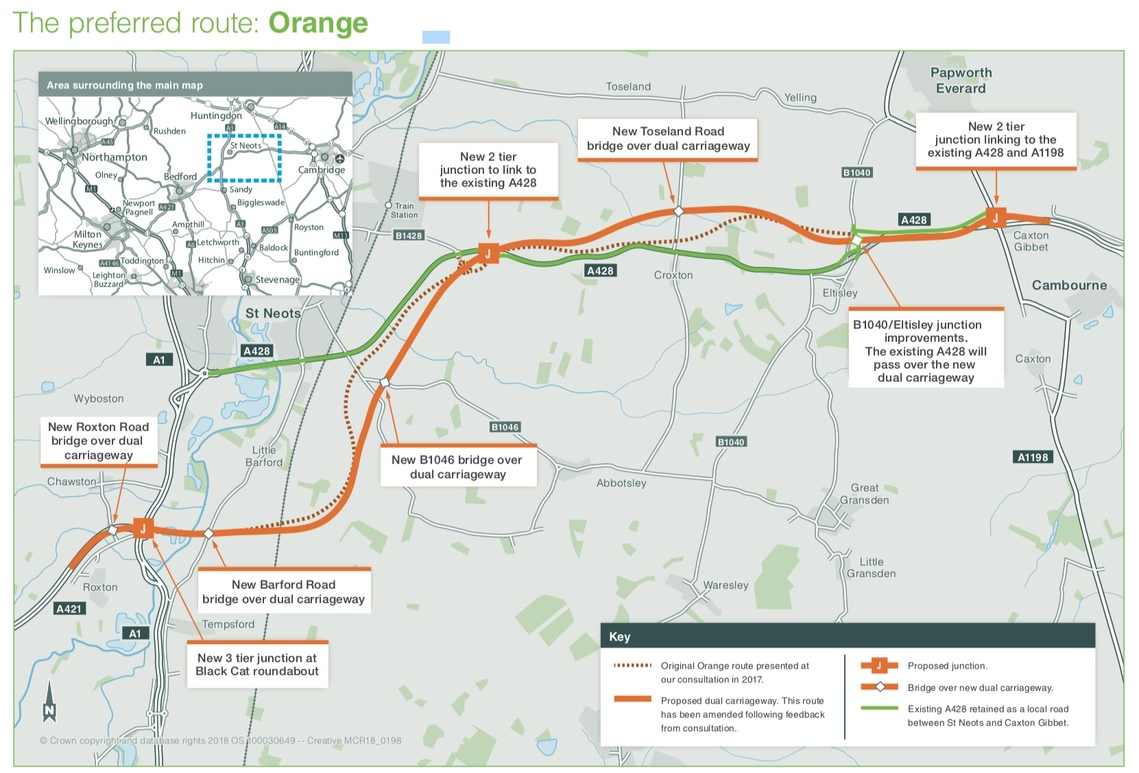 If you havent already registered - why not click below to take you to our registration page, You will be asked to confirm your e-mail, once confirmed, we can then email you news about the roads and highways that are important to the SG19 area.

We do not and will not share or pass on your email in any way, or send excessive numbers of emails.
---
Let us know your Road and Traffic concerns.
SG19 is a group of concerned residents in Sandy and the surrounding SG19 postcode area. We have grouped together and want to make our voice heard on matters relating to road, traffic and related safety and maintenance issues that impact us and our families which do not appear to be being addressed adequately by our local body representatives.
Mainly due to not previously being informed of issues and then had the focus to be held to account for their actions to address those issues in a professional manner, our aim is to help ensure important issues in front of our elected Representatives.
If you would like to report any issues on Potholes, Street Lighting or any other issues you know about in our area, we have included easy links direct to Central Bedfordshire Councils on-line reporting tools, including one to allow you to track your issue once logged, just click on the button on the right to be directed straight to the CBC Report It page.
Your views Count...
Your feedback about the traffic, road maintenance, congestion and road safety in and around Sandy, Potton and neighbouring villages
Air your concerns, raise your issues CLICK HERE to send the SG19 Group your views and concerns.
We continue to gather and collate your views and concerns and feed these back to the local and county councils in our regular communications with them, as well as raise larger issues with our elected Members of Parliament.
---
Sandy Speedwatch Group
Please help support the Sandy Speedwatch group - Contact the Group Co-ordinator - CLICK HERE.
SG19 have been working alongside Sandy Speedwatch and supporting the groups activities, Sandy Speedwatch need volunteer speed watchers to help ensure they can watch our roads where needed - if you are interested and want to find out more contact the Group Co-ordinator and offer your support.