We can keep you up to date on news and future meetings and share your own views.
---
OPEN LETTER TO SANDY COUNCIL, RICHARD FULLER MP and TRACEY STOCK CBC COUNCILLOR
27th FEBRURY 2023
Linda Davies from Beeston has sent an open letter to our local council, CBC council and our MP Richard Fuller requesting information on attendance at an important meeting in Parliament on Wednesday 1st March 2023. The Committee meeting in Parliament is seeking oral evidence on Highways Englands performance, a potential opportunity for the residents of Sandy to have our concerns raised on our air quality and safety due to the A1 running through our community.
CLICK HERE to see Linda's letter and for links and more information on about the meeting
---
STATEMENT TO SANDY TOWN COUNCIL MEETING
1ST MARCH 2021- REFERENCE AGENDA ITEM 8 POINT 3: RECOMMENDATION FOR A1 IMPROVEMENT.
The SG19 Road Group came into existence to seek improvements to the road network around Sandy and we write in connection with the above Agenda item for tonight's meeting. It is encouraging to see Richard Fuller MP taking on board one major point of concern regarding the A1 and we welcome the opportunity to work towards achieving any improvement.
Possibly the most significant focus should be on getting Highways England and Central Bedfordshire Council to work together to reduce the amount of pollution surrounding Sandy. As the attached graph highlights, Sandy suffers from levels of pollution that are usually only encountered in major conurbations. While it may not be easy to find a solution to this problem extra Government funding has been made available to both these bodies to deal with the specific issue of pollution that is proven to be so detrimental to health.
If a focus is needed on a 'physical' aspect of the A1 in Sandy, one of the main problems constantly highlighted has been the dangerous junction where New Road joins the A1. As long ago as 2016, the Group carried out a review of the A1 and specifically highlighted this junction to Highways England. Sadly nothing has happened since.
On first sight, the solution to this problematical junction would appear to be to just close off access to and from the A1 northbound. However, this would create additional problems by increasing congestion and pollution elsewhere along the Biggleswade North to Sandy Roundabout section. When the alternative idea – a straightforward, simple, engineered solution to the problems at this junction – has been explained, it has been welcomed. While not ideal – only complete re-alignment of the A1 away from Sandy would meet that standard - it is a tried and tested solution to other similar connections between minor roads and the A1.
Indeed, a similar junction exists at Southoe, Lees Lane junction, on the Buckden stretch of the A1 with which, surely, Sandy should have parity? It is simple to engineer and therefore relatively inexpensive.
Lees Lane Close up of Junction road markings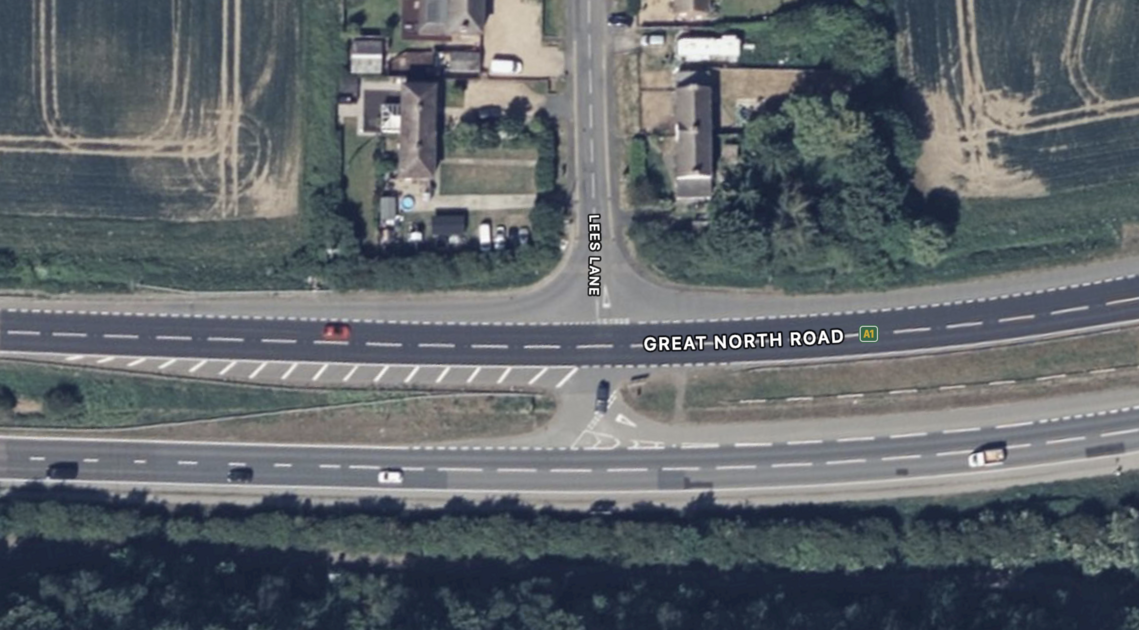 New Road and A1 Junction close up of road markings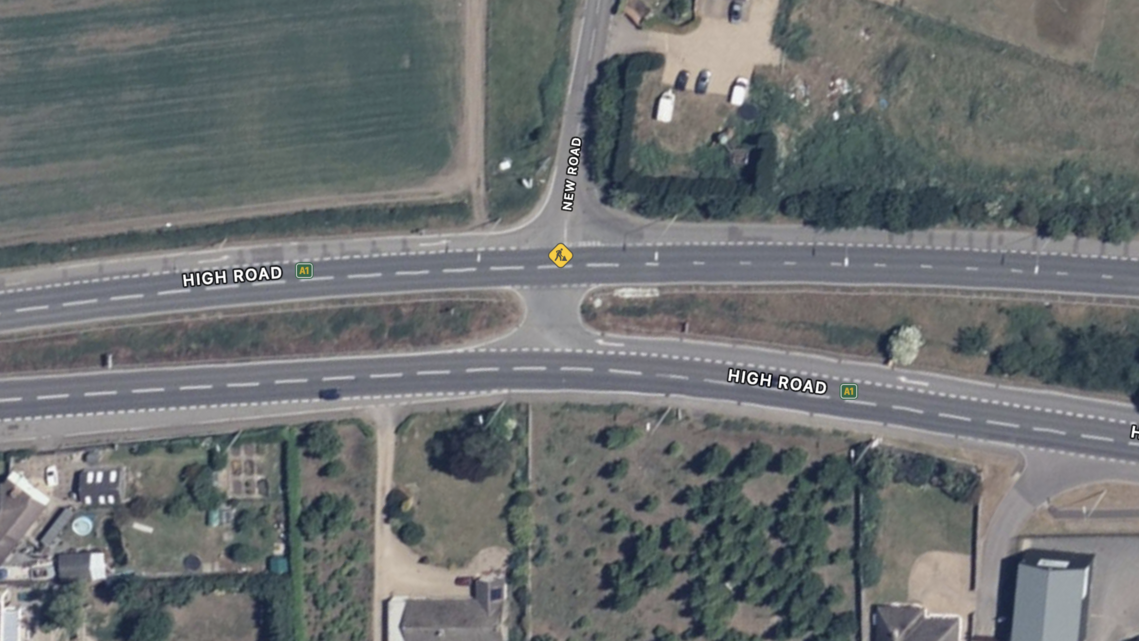 It is to be hoped that Mr Fuller's intervention can bring about the necessary 'working together' approach. We welcome this strategy and will be lending our support to any initiative he can create to bring about action by these two bodies.
01.03.2021
---
RECOMMENDATION FOR IMPROVEMENT TO THE A1 AT ITS JUNCTION WITH NEW ROAD.
On the northbound carriageway, approaching New Road to turn right
Erect no-U-turn signs. Widen the deceleration lane so that it is closer to the southbound carriageway. At present, stationary vehicles waiting to turn right into New Road from the A1 are in the direct line of sight for cars leaving New Road to turn northbound. Vehicles are tempted to pull forward 'blind' in consequence, risking pulling directly into the path of vehicles in the fast lane travelling north at a point not far from the change in speed limit from 60mph to 50mph. In consequence, most vehicles have not slowed down fully at this point.
Apply white line markings so that vehicles queuing to turn right do so by stopping at a line, to give priority to vehicles coming out of New Road to turn northbound and to hatch an area marking clearly the route that these vehicles have to follow while limiting the number of vehicles allowed to wait in the central reservation.
At present, it is unclear who has priority leaving New Road to turn right to travel north and where waiting vehicles should be positioned alongside the A1 waiting to turn right into New Road.
On the southbound carriageway, approaching New Road to turn left
Build a proper footpath to the side of the deceleration lane from Beeston footbridge into New Road to provide properly for pedestrians, in particular for those using the bus stop. The deceleration lane would benefit from being widened slightly to suit the size of modern HGVs.
Junction of New Road with the A1.
The top of New Road needs to be raised so that vehicles waiting to join the A1, especially when crossing it to go north, do not have to pull away uphill. It needs to be widened so that vehicles – especially HGVs – can negotiate the left turn to go south without swinging out into the slow lane of the southbound carriageway. A separate lane needs to be created for vehicles waiting to cross the A1 to go north.
Footpath to Tesco also serving the Railway Station.
The footpath along the side of the southbound carriageway of the A1 should be continued into New Road and on to Tesco.
---
AIR QUALITY IN SANDY
The WHO guideline values for particulate matter are: PM2.5= 10 μg/m3 & PM10 = 20 μg/m3
SANDY ANNUAL AVERAGE ROLLING RESULTS from latest 2016 WHO Survey:
PM10 = 19 ug/m3 PM2.5 = 12 ug/m3
We have plotted data from DEFRA showing the PM2.5 and PM10 Sandy Air Quality using DEFRA data collected by the Automatic Urban & Rural Monitoring Network (AURN) from Sandy Roadside monitoring station (Sandy Roundabout)
(Click on any graph which will open a new window and show you a clearer larger graph)
The above is the data for PM2.5 and PM10 particle polution. Showing that Sandy exceed the WHO recommended limits for these polutants frequently.

This data is based on the hourly measured results plotted daily.
Extract from WHO "Air Quality Guidleline for Particle Matter..." Global Update 2015:
"The evidence on airborne particulate matter (PM) and its public health impact is consistent in showing adverse health effects at exposures that are currently experienced by urban populations in both developed and developing countries. The range of health effects is broad, but are predominantly to the respiratory and cardiovascular systems. All population is affected, but susceptibility to the pollution may vary with health or age. The risk for various outcomes has been shown to increase with exposure and there is little evidence to suggest a threshold below which no adverse healtheffects would be anticipated."
Councillor Adam Zerny posted his concerns on his facbook page in May 2018. To read Adam's full post - click on this link: https://bit.ly/2XAK36o
If you havent already registered - why not click below to take you to our registration page, You will be asked to confirm your e-mail, once confirmed, we can then email you news about the roads and highways that are important to the SG19 area.

We do not and will not share or pass on your email in any way, or send excessive numbers of emails.
---
Let us know your Road and Traffic concerns.
SG19 is a group of concerned residents in Sandy and the surrounding SG19 postcode area. We have grouped together and want to make our voice heard on matters relating to road, traffic and related safety and maintenance issues that impact us and our families which do not appear to be being addressed adequately by our local body representatives.
Mainly due to not previously being informed of issues and then had the focus to be held to account for their actions to address those issues in a professional manner, our aim is to help ensure important issues in front of our elected Representatives.
If you would like to report any issues on Potholes, Street Lighting or any other issues you know about in our area, we have included easy links direct to Central Bedfordshire Councils on-line reporting tools, including one to allow you to track your issue once logged, just click on the button on the right to be directed straight to the CBC Report It page.
Your views Count...
Your feedback about the traffic, road maintenance, congestion and road safety in and around Sandy, Potton and neighbouring villages
Air your concerns, raise your issues CLICK HERE to send the SG19 Group your views and concerns.
We continue to gather and collate your views and concerns and feed these back to the local and county councils in our regular communications with them, as well as raise larger issues with our elected Members of Parliament.